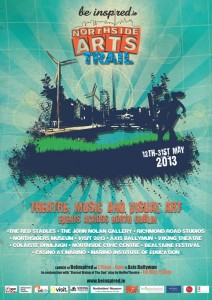 Be Inspired is an arts series running the second half of May 2013. The trail highlights key theatre, music and visual art events happening across North Dublin; produced by Northside cultural centres & institutes, it is an initiative co-ordinated by Colaiste Dhulaigh and Near FM.
The John Nolan Gallery is participating in the trail.
Event: A Celebration of Colour, a selection of John's colourful paintings, prints and greeting cards will be on display in the Omni Park Shopping Centre, 2nd Level car park, Santry, Dublin 9.
Dates: The exhibition will run during the last 2 weeks of May to coincide with the
northside Arts Festival.
12th May – 31st May
Opening Times:
Monday 11.00am to 5.00pm
Tuesday to Thursday viewing by appointment 0868118063
Friday- Sunday 11.00am to 6.00pm
Mobile 086 8118063
Congratulations to everyone involved in the Arts Trail.